About Data Science
Source : Learn about Data Science Courses, Skills and Career
Data science is not the future; it is the present! Data science has been here since the 1990s, but its value was recognized only when businesses became unable to use the humongous volumes of data for decision-making. Data science has been helping businesses to grow beyond the conventional norms of data consolidation. It enables the organizations to have access to more and more information and allows seeing new things in a better way, from a different perspective.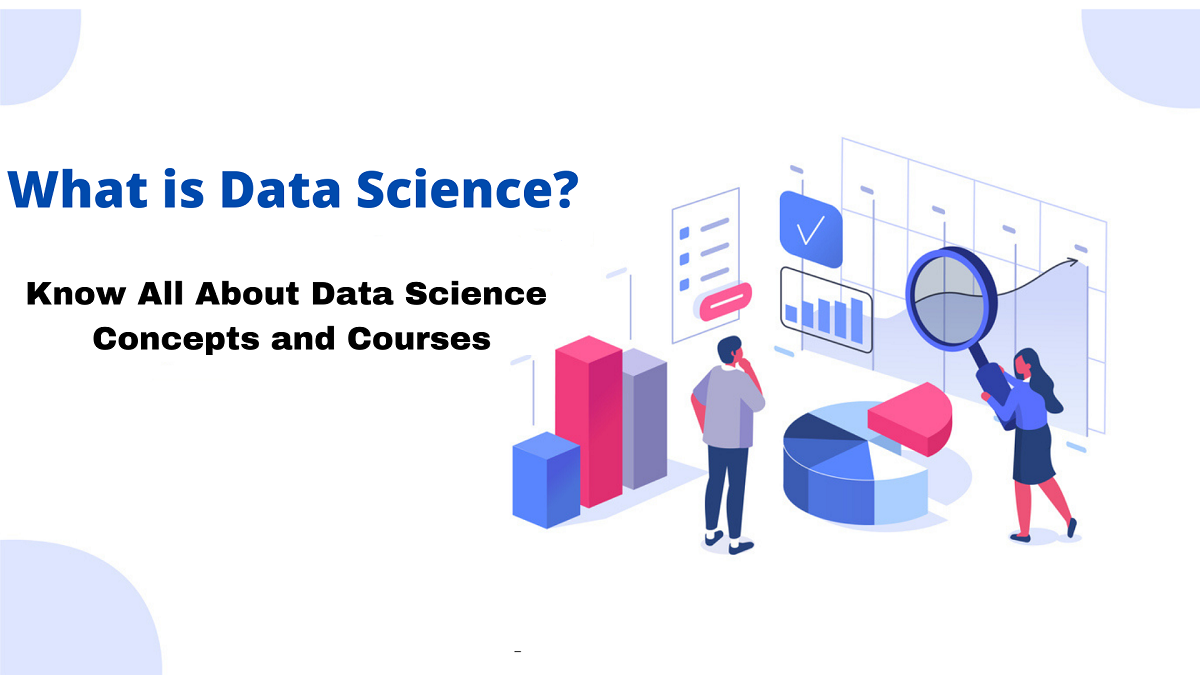 Now that modern technology has enabled the creation and storage of ever-increasing amounts of information, the volume of data exploded. It is estimated that 90% of the data in the world was created in the last two years. For example, Facebook users upload 10 million photos per hour.
But this data often just stays stored in databases and data lakes, basically untouched. The vast amount of data collected and stored by these technologies can generate transformative benefits for organizations and societies around the world, but only if we know how to interpret it. That's where data science comes in.
Organizations are picking up the nuggets of wisdom and are explicitly leveraging data science to convert information and knowledge into action, thereby leading to more and more data scientist jobs.
This blog will cover –
What is data science?
What are the essential skills to become a data scientist?
Who can become a data scientist?
How to become a data scientist?
Why data science is a good career option? 
What is Data Science?
Data Science is a detailed study of information flow from large amounts of data present in an organization's repository. It is a blend of data inference, algorithm development, and technology, which altogether contribute to solving complex analytically problems. With the help of data science, organizations have successfully obtained meaningful insights from unstructured and raw data.
Modern-day businesses require skilled, knowledgeable, and certified data scientists and they have emerged as the highest-paid professionals, in the recent years.
Data Science meaning is the in depth analysis of the processes to extract large amounts of data to determine repetitive patterns. This helps organize and control all the variable aspects of an organization, such as costs, competition, as well as the market. It is responsible for studying the origin of the information, what it represents and the ways that exist to use it for the benefit of any project.
Why Data Science?
The answer to this question is very simple. Data science contributes towards reducing the horrors of uncertainty for organizations. Businesses have now moved from age-old data calculation techniques and have started leveraging the power of data. Massive digitization of promotion platforms now run on data insights, irrespective of the verticals. With zillions bytes of data being generated every day, the role of data scientists is of paramount importance, who are responsible to provide intelligent solutions to facilitate decisions making at business levels.
The importance of Data Science can be understood by the fact that even online marketing and entertainment giants like Amazon and Netflix are mostly dependent on it to get consumer insights. These businesses use data mining and sorting to understand users' interests, identify significant customer segments, send messages to the different market audiences, and what not! Demand for Data Science professionals across industries, from businesses to non-profit organizations to government institutions, has gone up.
The main advantage of data science is that, with a good organization, it is possible to solve problems more quickly and objectively. In addition, it is the best way to find solutions to circumstances with varied and dispersed data. Data Science has varied applications, where business and commercial areas predominate. For example, it facilitates recruitment in the human resources department, it helps marketing teams finalize their overall campaign costs and attract customers, and manage general management sections of any organization.
Unstructured and unorganized data can be a headache for companies, but thanks to Data Science, this task can now be less time consuming, less costly and easy to handle.
To know more about the job profile and responsiblities of a Data Scientist, refer to this article on What is Data Scientist?
Key Data Science Concepts
Artificial intelligence is based on simulating human intelligence processes through algorithms. In other words, it is the discipline that tries to create systems capable of learning and reasoning like a human, learn from experience, find out how to solve problems under given conditions, contrast information and carry out logical tasks.
Business Intelligence
Business intelligence is about the ability to transform data into information, and information into knowledge, so that the decision-making process in business can be optimized. From a more pragmatic point of view and associating this concept directly with information technologies, we can define Business Intelligence as the set of methodologies, applications and technologies that allow gathering, purifying and transforming data from transactional systems and unstructured information into structured information. The information can then be used to support decision-making with respect to business.
Big data refers to the sheer volume of data, both structured and unstructured, that floods businesses of all kinds every day. The massive generation of data from social networks, mobile devices, sensors and other data sources created challenges that motivated the creation of novel tools and techniques. Big Data are all data sets or combinations of data sets whose size (volume), complex (variability) and growth rate (speed) impede the capture, management, processing or analysis using conventional technologies and tools such as databases relational and conventional statistics.
Data mining is a set of techniques and technologies that allow exploring large databases, automatically or semi-automatically, finding repetitive patterns that explain the behavior of these data. These patterns can be found using statistics or search algorithms close to Artificial Intelligence and neural networks. The intention of data mining is to provide valuable information to companies to help them make future decisions.
Machine learning is a scientific discipline in the field of Artificial Intelligence that creates systems that learn automatically. Machine learning refers to the process by which computers develop pattern recognition or the ability to continually learn and make predictions based on data, after which they make adjustments without being specifically programmed to do so. Machine learning automates the analytical modeling process and allows machines to adapt to new situations independently.
Deep learning is a subset of machine learning and an aspect of artificial intelligence that deals with emulating the learning approach that humans use to obtain certain types of knowledge. In its simplest form, deep learning can be seen as a way to automate predictive analytics. The algorithms that deep learning uses are stacked in a hierarchy of increasing complexity and abstraction.
Text Mining
Text mining seeks to extract useful and important information from heterogeneous document formats and large data collections, such as web pages, emails, social media, magazine articles, etc. This is done by identifying patterns within texts, such as word usage trends, syntactic structure, etc. It adopts machine learning techniques for pattern recognition and understanding of the new information collected.
Data analysis in an approach that involves data analysis, specifically Big Data, to draw conclusions. By using data analytics, companies can be better equipped to make strategic decisions and increase their turnover. Its main objectives are to improve operational efficiency, improve and optimize the UX and customer experience, and refine the business model.
Statistics
Inescapable! Also powerful, sometimes counterintuitive. Statistical methods are traditionally used for descriptive purposes, to organize and summarize numerical data. The main function of statistics is collection and grouping of data to build statistical reports, always from a quantitative point of view.
Data Manipulation
Data manipulation is defined as the process of taking disorganized or incomplete raw data and standardizing it so that you can easily access i, consolidate and analyze it. It also involves mapping data fields from source to destination. Data manipulation aids the usability of the data by transforming it to make it compatible with the end system, as complex and intricate data sets can hamper data analysis and business processes. For data to be usable for end processes, it must be transformed and organized according to the requirements of the target system.
An example of data manipulation could point to a field, row, or column in a dataset and implement an action such as join, parse, clean, consolidate, or filter to produce the required result.
Data Cleaning
Almost all data sets include some outliers that can skew the results of the analysis. You will need to clean the data for optimal results. The data is thoroughly cleaned for further analysis. You will need to change null values, remove duplicates and special characters, and standardize the format to improve data consistency.
Data Warehouse
A data warehouse is a system used to generate reports and for data analysis. They consist of a central data repository integrated by one or more sources and store current and historical data, which are analyzed and then used to generate reports.
Popular Data Science Courses
Data Scientist Associate Certification
IBM Certified Data Architect – Big Data
Oracle Business Intelligence Foundation Suite 11g Certified Implementation Specialist
SAS Certified Big Data Professional
EMC Data Scientist – Advanced Analytics Specialist (EMCDS)
Certification of Professional Achievement in Data Sciences
Certification in Business Analytics
Certificate in Analytics and Information Management
Data Mining and Applications Graduate Certification
Biomedical Data Science Graduate Certification
How to Choose the Right Data Science Course?
Just as you consider factors such as interest, budget, and ROI while choosing a career, the decision to opt for the right data science online courses should also be seen through these filters.
Be clear of what you want to be after pursuing Data Science. A Data Scientist, Engineer, Architect, Statistician, or Analyst?
Assess your current skill level and see if learning data science will ass value to it
Plan your budget accordingly and consider the time you are willing to put it to pursue the course
Talk to people who have already taken the course and gather some reviews.
See if the course provides a foundational understanding of Data Science and Statistics.
Check if the course is certified.
See if the course fits your budget.
Use online training listing pages and apply filters to shortlist the best and free data science courses.
Popular Data Science Job Roles
Some of the prominent data science roles are listed below.
Data Scientist
Data Analyst
Data Engineer
Data Mining Engineer
Data Architect
Data Statistician
Project Manager
Data Scientist
A Data Scientist's primary job role is to extract consumable information from structured and unstructured data with computer programming tools and processes. Their job also includes creating methodology and blueprint to present information to stakeholders. They are also supposed to maintain databases.
Data Analyst
A Data Analyst has the responsibility of analyzing the data, identifying trends, and creating a predictive model based on data studied. Another critical responsibility of a Data Analyst is to translate findings into reports, which can be understood by the management, and help them accurately visualize the possible outcome. They are also supposed to maintain databases and data systems.
Data Engineer
Data Engineers are required to study data, develop data set processes, prepare the predictive model, and build algorithms through which stakeholders can easily consume raw data. It may include developing dashboards and reports that can be accessed and used by all stakeholders. Data Engineers need to have strong communication skills to be able to understand client's requirements and objectives.
Data Mining Engineer
The job of a Data Mining Engineer is mainly extracting data from an extensive database and analyzing them. They are also responsible for building and maintaining software and digital infrastructure to study big chunks of data.
Data Architect
Data Architect's role is to ensure that data used in creating a blueprint of a project is stable, secure, and available to all stakeholders at all times. The job role includes collating, organizing, centralizing, maintaining, and protecting a company or client's data.
Data Statistician
This job role includes critical responsibilities such as extraction of data using statistical methodologies and analyzing, organizing, and contextualizing data and its subsets. A Data Statistician is supposed to conduct tests to determine the reliability and accuracy of data.
Project Manager
Data mining, extraction, testing, analysis, and application for creating a blueprint is a wide field of work that requires management to optimize the resources being used on a project. A Project Manager's role is to oversee and guide the execution of the project. They act as a medium between the team and clients to communicate requirements and changes in the project.
Top Data Scientist Recruiters
Demand for data scientists is very high, and even the government organizations are also warming up to the fact that Data Science is the future. Some of the top companies in India that hire Data Scientists in large numbers are:
Amazon
Deloitte
Fractal Analytics
LinkedIn
MuSigma
Flipkart
IBM
Accenture
Citrix
Myntra
Dexlock
Rudder Analytics
Career Prospects after Data Science Certification
According to IBM, about 700,000 openings will be generated in this field in the coming years. Another study claims that the Data Science industry, which has grown to $3.03 billion in size in the past few years, is expected to double by 2025
Experts believe Data Science to be the most future-looking skillset given the increased usage of data analytics and machine learning to make more informed business decisions and run their businesses. It has largely helped organizations to obtain meaningful insights from unstructured and raw data.
Data scientists' jobs mainly require them to help the organization make smart investment decisions, target the right consumers, assess associated risks, and contribute towards capital allocations.
After developing your data science skills and gaining years of experience, you can explore different domains like marketing, sales, data quality, finance, business intelligence, etc., and even serve as a consultant with leading data-driven firms.
The following are some of the most popular job profiles based on different data science skills.
Career Opportunities for R Programming Professionals
| | |
| --- | --- |
| R Programming Trainer | Software Engineer – Python/R/Machine Learning |
| Data Analyst | Lead Python Developer |
| Analytics Consultant – R/Python | Data Scientist – R/Statistical Modelling |
| Data Analyst – R/Python/Tableau | R Package Developer |
| Data Scientist | MATLAB/R Programmer |
Career Opportunities for Machine Learning Professionals
| | |
| --- | --- |
| AI and Machine Learning Expert | Data Science Engineer |
| Manager – Machine Learning | Senior Data Scientist |
| Data Scientist – Machine Learning/AI | Senior Business Analyst – Machine Learning |
| Computer Vision Engineer | ML Specialist |
| Python Programmer – Machine Learning | Senior Manager – Machine Learning |
| Team Lead – Database Administration | Lead Data Scientist |
Career Opportunities for Clinical Data Science Professionals
| | |
| --- | --- |
| Senior Data Manager, Clinical Data | Clinical Data Coordinator |
| Clinical Data Scientist | Lab Data Analyst |
| Senior Data Manager | DDS Lead – Pharma Analytics |
| Clinical Data Analytics Specialist | Data Scientist Developer |
| Data Analyst – Clinical/Healthcare/Pharma | Data Engineer |
| Clinical Data Coder | Clinical Analyst |
| Clinical Data Programming Associate | Lead Research Engineer |
| Clinical Data Programming Analyst | Data Monitoring Associate (GSS) |
Career Opportunities for Statistical Data Science Professionals
| | |
| --- | --- |
| Senior Analyst – Advanced Analytics | Manager – Credit Fraud Risk |
| Senior Manager – Data Scientist | Fractal Analytics – Lead Data Scientist |
| Data Scientist – NLP/Data Mining | Process Manager – Data Science |
| Associate Data Scientist (Ml, Python) | Manager – Business Intelligence/Analytics |
| Data Analytics (Manager) | Senior Data Scientist – Machine Learning/AI |
Career Opportunities for Applied Data Science Professionals
| | |
| --- | --- |
| Machine Learning Applied Research Scientist | Machine Learning Scientist |
| Lead Applied ML/Big Data Engineer | Senior/Lead Applied Scientist |
| Applied Data Scientist | Customer Facing Data Scientist |
| Principle Data and Applied Scientist | Applied Research Engineer/Scientist |
| Applied Scientist, Advertising | Applied AI Researcher |
| Principal Data and Applied Scientist Manager | Applied Scientist (Machine Learning) |
Popularity Trend of Data Science
The importance of Data Science can be understood with the fact that even online marketing and entertainment giants like Amazon and Netflix, respectively are largely dependent on it to get the consumer insights. These businesses use data mining and sorting to understand users' interests, identify major customer segments, send messaging to different market audience and what not! Demand for Data Scientists across industries, from businesses to non-profit organizations to government institutions. Take a look at the Google trends data to understand the growing popularity of Data Science in the recent years.